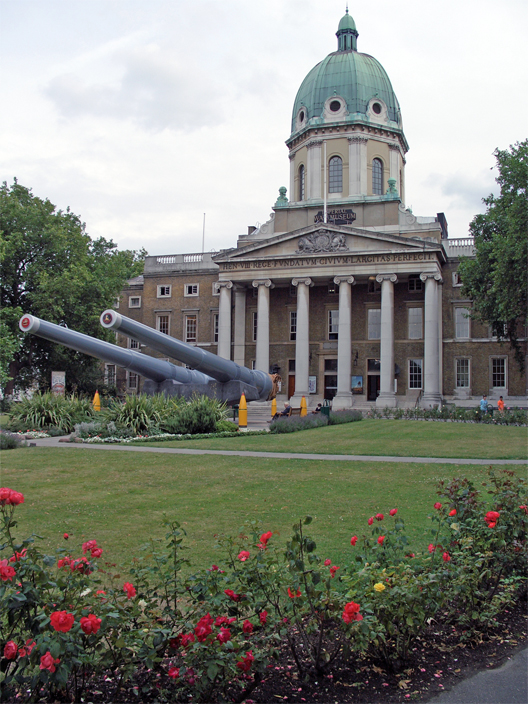 http://readthisblog.net/wp-content/photos/1157ImperialWarMuseum.jpg
Our first full day of class starts! After a yummy breakfast at
Konditor
and Cook just down the street I head to our first class session. Dr. Welsh reviews our syllabus and our schedule then we head back to the Auditorium for orientation for the entire study abroad group.
Jenn, Jessica and I head down the street to Waterloo Station for lunch and a bit of shopping. Marks and Spencer has a good little grocery close by where we pick up some staples and goodies for breakfast.
At 2:30 we meet for our "London Alive" tours. I signed on the the "Nazi Blitz" session which took us on a walking tour through the neighborhood. Dr.
Mackaman
is a terrific lecturer and brings this era alive with great information and anecdotes. Plus he adroitly managed to fend off the cranky drunk who interrupted his talk! We end up at the Imperial War Museum and spend the remainder of the afternoon touring this phenomenal museum. I visit the Trench exhibit which presents a realistic yet sanitized version of this mode of warfare. Walking through the trench, listening the the recreation of the sounds of war and smelling some the the smells that existed then made for an interesting experience. Time ran out so I'll be back to experience the Blitz and to see the rest of the exhibits another day.
http://hrc-pinmaniac.net/Pics/HRCafes/London_HRC.jpg
A busy day ended with a late dinner at London's original Hard Rock Cafe at Hyde Park Corner. What was to be an easy straight shot tube ride became complicated when the Jubilee Line that we needed to take us directly to the Hard Rock was out of service. We ended up having to change trains during a busy night in the city, but made it there safe and sound. Always a great experience and always fun to have a large Coke with tons of ice!