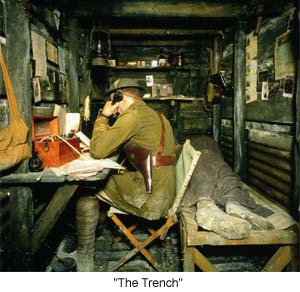 Back into Waterloo Station after a quick train ride from the country.
Time to catch up on class work and to visit the Imperial War Museum again. I had thought of our family friend Arthur (now age 89) often as I had first toured the museum. He served in World War II with Montgomery and had landed on the beach with the second wave during D-Day. When we met for lunch on Sunday I mentioned my museum visit to Arthur and we talked some about the exhibits at the museum and the war in general. He then shared some of his experiences with us, telling about how his unit was mobilized for D Day, about serving in the desert for 3 years, remembering the day he enlisted, plus more. Irene, his wife, lived in London during the war and her stories about air raids, rationing, and being sent to the country to live with another family all made the war experience much more significant. Hearing the stories of people who lived through and served in the war made my trip to the museum much more real and tangible.
On this visit I experienced the Blitz in a recreation of the nightly bombings of the city. Scary and daunting and more significant since I had just talked to Irene who had lived through the experience. I headed upstairs to visit the Holocaust exhibit. Words can't do justice to this except to say how powerful and sobering an experience it was.
My daughter and I have often spoken of her desire to be a photojournalist and the power in the picture. Visiting this museum reaffirmed how much can be said through the lens of a camera. I look forward to hearing my daughter's comments and thoughts about this after she views the photos on display.