Children's Department Waterloo branch library
My day started with a trip to the Waterloo branch library and a meeting with Anita Lewis, Children and Young People's Librarian,
Lambeth
. My interview with Ms. Lewis was very productive. She provided me with lots of great information about the libraries in which she works, including information on collection development, programming, plus much more. She was a wealth of knowledge and provided exactly the information I needed to help complete my research paper.
The gang and I took the Tube up to
Knightsbridge
for a visit to Harrods. While we were ostensibly shopping for gifts and souvenirs, we all were craving a return visit to
Laduree
! Just happens that the lovely tearoom there was open for lunch and for the purchase of macaroons. We ate a small tables on the upper level just visible in the photo behind the white railing. Yummy as always and the delicious fat
frites
that we now enjoy so much were on the menu. The people watching was as interesting as the food was delicious.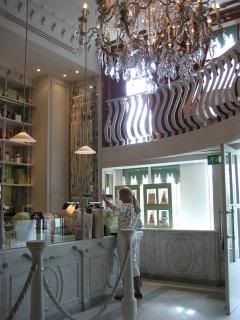 http://i6.photobucket.com/albums/y226/yixiaohere/youthsg/laduree2.jpg
Headed back to Stamford Street to prepare for our
BSP
symposium across the river at Somerset House. Each professor gave a brief overview of what the class had studied and a student from that class spoke about his/her research project. It was fun and interesting to learn what all the other groups had been doing while we were visiting museums and libraries. One student told us that this was his fourth
BSP
trip and after learning about other class offerings, I can
understand
why someone would want to return again and again. At the conclusion of the symposium, we walked over to Giraffe to celebrate Nicole's birthday and reminisce about our fun times during our time in London.